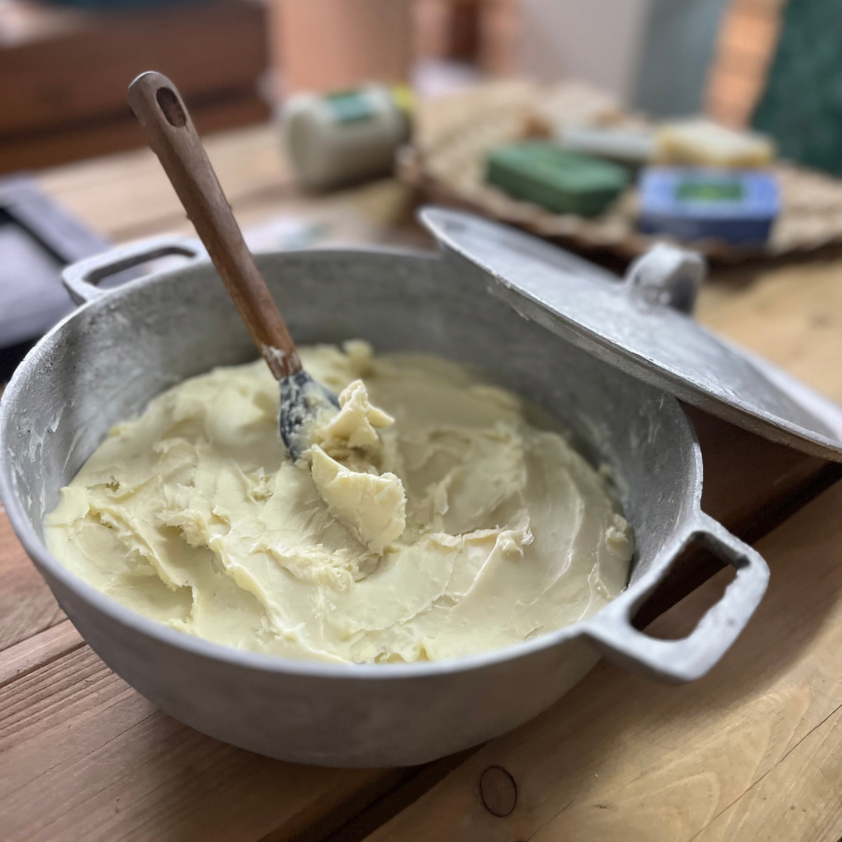 KANAFRIK ZURI NOURISHING BODY BALM.
Regular price
$25.00 USD
/
---
In stock, ready to ship

Inventory on the way
Experience the indulgent nourishment of KANAFRIK Zuri Nourishing Body Balm, crafted with love and care using pure Shea butter sourced from Guinea 🇬🇳This exquisite body balm is meticulously formulated to provide deep hydration, nourishment, and a radiant glow to your skin.
Enriched with the finest natural ingredients, including Shea butter, jojoba oil, coconut oil from Ghana 🇬🇭and rosehip seed oil.  this body balm delivers a luxurious and rejuvenating experience. Shea butter, sourced from the rich lands of Guinea 🇬🇳is known for its rare and exceptional moisturizing and skin-nourishing properties, promoting a supple and velvety-smooth texture.
Immerse yourself in the silky embrace of this nourishing balm as it melts effortlessly into your skin. The combination of carefully selected oils deeply moisturizes and replenishes, leaving your skin feeling pampered and revitalized. The presence of rosehip seed oil helps to improve skin tone and texture, while jojoba oil and coconut oil contribute to a balanced and hydrated complexion.
Every jar of KANAFRIK Zuri Nourishing Body Balm is a testament to our commitment to providing you with a luxurious and effective skincare experience. The careful selection of premium ingredients, including Shea butter sourced from Guinea, ensures that your skin receives the utmost care and nourishment it deserves.
Indulge in the sumptuous aroma that accompanies the application of this body balm, evoking a sense of tranquility and serenity. Imbued with the natural essence of Africa, the KANAFRIK Zuri Nourishing Body Balm rejuvenates your senses while providing the skin with a radiant, healthy glow. 
Direction of use : 
1. Ensure your skin is clean and dry before applying the body balm.
2. Take a small amount of the Zuri Body Balm using clean fingertips or a spatula.
3. Warm the balm between your palms to soften it.
4. Gently massage the body balm onto your skin using upward circular motions.
5. Pay special attention to areas that tend to be drier or require extra nourishment.
6. For a soothing and luxurious experience, use the Zuri Body Balm as a body massage oil.
7. Apply a slightly larger amount of the balm and massage it onto your body, focusing on areas of tension or in need of relaxation.
8. Enjoy the smooth glide of the body balm as it nourishes your skin during the massage.
9. Continue massaging until the body balm is fully absorbed.
10. Allow the balm to work its magic, leaving your skin feeling soft, hydrated, and deeply nourished.
11. For best results, use the body balm daily or as needed, preferably after a bath or shower when the skin is still slightly damp.
12. Embrace the rejuvenating benefits of the Zuri Body Balm during your self-care rituals or pampering moments.
13. Store the body balm in a cool, dry place, away from direct sunlight.
Whether you're applying it as a regular body moisturizer or indulging in a body massage, the Zuri Body Balm offers a versatile and delightful experience for your skin. Should you have any further inquiries or require additional assistance, our customer support team is always ready to assist you.
Découvrez le Baume Nourrissant Zuri de KANAFRIK, fabriqué avec amour et soin en utilisant du beurre de karité pur provenant de Guinée 🇬🇳. Ce baume corporel exquis est méticuleusement formulé pour offrir une hydratation profonde, une nutrition et une lueur rayonnante à votre peau.
Enrichi des meilleurs ingrédients naturels, dont le beurre de karité, l'huile de jojoba, l'huile de coco du Ghana 🇬🇭 et l'huile de rose musquée, ce baume corporel offre une expérience luxueuse et régénérante. Le beurre de karité, provenant des riches terres de Guinée 🇬🇳, est reconnu pour ses propriétés hydratantes et nourrissantes exceptionnelles, favorisant une texture douce et veloutée.
Plongez-vous dans l'étreinte soyeuse de ce baume nourrissant alors qu'il fond facilement dans sur votre peau. La combinaison d'huiles soigneusement sélectionnées hydrate et revitalise en profondeur, laissant votre peau choyée et revitalisée. La présence d'huile de rose musquée contribue à améliorer le teint et la texture de la peau, tandis que l'huile de jojoba et l'huile de coco contribuent à un teint équilibré et hydraté.
Chaque pot de Baume Nourrissant Zuri de KANAFRIK témoigne de notre engagement à vous offrir une expérience luxueuse et efficace en matière de soins de la peau. La sélection minutieuse d'ingrédients de qualité supérieure, notamment du beurre de karité provenant de Guinée, garantit que votre peau reçoit les soins et la nutrition qu'elle mérite.
Laissez-vous séduire par l'arôme somptueux qui accompagne l'application de ce baume corporel, évoquant une sensation de tranquillité et de sérénité. Imprégné de l'essence naturelle de l'Afrique, le Baume Nourrissant Zuri de KANAFRIK ravive vos sens tout en offrant à la peau une lueur radieuse et saine.
Application: 
1. Assurez-vous que votre peau est propre et sèche avant d'appliquer le baume pour le corps Zuri.
2. Prenez une petite quantité du baume pour le corps Zuri à l'aide de vos doigts propres ou d'une spatule.
3. Réchauffez le baume entre vos paumes pour le ramollir.
4. Massez doucement le baume pour le corps sur votre peau en effectuant des mouvements circulaires ascendants.
5. Accordez une attention particulière aux zones qui ont tendance à être plus sèches ou qui nécessitent une nutrition supplémentaire.
6. Continuez le massage jusqu'à ce que le baume pour le corps soit complètement absorbé.
7. Pour une expérience apaisante et luxueuse, utilisez le baume pour le corps Zuri comme une huile de massage corporel.
8. Appliquez une quantité légèrement plus importante du baume et massez-le sur votre corps, en insistant sur les zones tendues ou nécessitant une détente.
9. Profitez de la sensation douce et soyeuse du baume pour le corps pendant le massage, qui nourrit votre peau en profondeur.
10. Laissez le baume agir, en laissant votre peau douce, hydratée et intensément nourrie.
11. Pour de meilleurs résultats, utilisez le baume pour le corps quotidiennement ou selon les besoins, de préférence après un bain ou une douche lorsque la peau est légèrement humide.
12. Appréciez les bienfaits apaisants et régénérants du baume pour le corps Zuri lors de vos rituels de soins personnels ou de vos moments de détente.
13. Conservez le baume pour le corps dans un endroit frais et sec, à l'abri de la lumière directe du soleil.
Que vous l'appliquiez comme une simple crème hydratante pour le corps ou lors d'un massage relaxant, le baume pour le corps Zuri offre une expérience polyvalente et délicieuse pour votre peau. Si vous avez d'autres questions ou besoin d'une assistance supplémentaire, notre équipe du service client est toujours prête à vous aider.